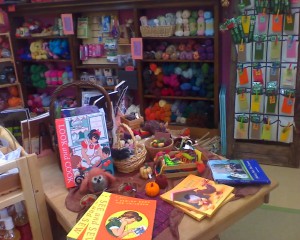 Welcome to the School Store at City of Lakes Waldorf School
Located on the Garden Level, the CLWS School Store is open to CLWS families throughout the week and allows families to enjoy some of the same materials at home that children will use in school: arts materials, music program supplies, books, yarn, beeswax, wool, and other handwork supplies. In addition, the Store offers an array of hand-made, artisan goods, both local and imported. There are many recycled, organic, fair-traded home goods that convey the ethos of our CLWS community while supporting the school (100% of store proceeds support CLWS).  Please stop in and say "hello" to our School Store Coordinator, Ann Dolina!
Store Hours:
Monday thru Friday 8:20 – 9:30 a.m. and 2:45 – 3:30 p.m.
Wednesdays from 11:30 – 12:15
The School Store hosts the following groups:
Knitting Group Tuesday 8:30 a.m. – 10 a.m.
Painting Group Wednesday 8:30 a.m. – 10:30 a.m.
The School Store is also open before and after Festivals, by chance or appointment.  To inquire send an email to schoolstore@clws.org.
Contact:
Store Phone     612-767-1530
Coordinator:     Ann Dolina