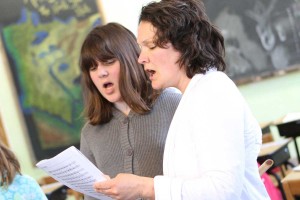 City of Lakes Waldorf School, founded by six mothers in 1988 as the Waldorf City School, holds the defining word "city" in its name. Guided by the early vision and present mission of the school, CLWS today is the result of a growing community—parents, alumni, teachers and students—endeavoring to create and experience Waldorf education in the heart of Minneapolis. Located in the Whittier neighborhood, near the nationally acclaimed Children's Theatre Company and Minneapolis Institute of Arts, we make our home in a gracious four-story historic building with adjacent urban gardens and a play area enjoyed by our school community and our Whittier neighbors.
City of Lakes Waldorf School is independent and self-administered. We have a 45 member teaching and administrative staff serving more than 240 children from preschool through eighth grade. As a full and accredited member of the Association of Waldorf Schools of North America, we share a common educational philosophy and independent school association with over 170 Waldorf schools in the United States, Mexico and Canada.
City of Lakes Waldorf School welcomes families and staff of all racial, cultural, social, ethnic and religious backgrounds.
For a lively portrait of CLWS history and community, please view our 2007 Patron Party video.